Ready to have a totally tidy and organized pantry? Declutter and simplify your kitchen with these must-have best products for pantry organization!


One of the top spots in almost every home up for the award "hardest to keep organized" is the kitchen pantry. With dry goods stored in cans and boxes and bags, it can be super challenging to bring together a cohesive look for pantry items…
And then add in the fact that it's one of the most used spaces with an influx of foods coming in and out, which can make it doubly hard to keep it from becoming a real eyesore.
Although I consider myself an organized person by nature…heck my blog is called "Organize Zen with Magan" I too fall victim to a messy pantry. (check out my "BEFORE" below)


The good news is that with just a little effort and a small time commitment you can make big changes in your pantry space. (Check out my "AFTER" below)




Here's my post 5 Easy Steps to Seriously Organize Your Pantry Once & For All to help you if you need a little extra guidance in the pantry organization department.



Although I subscribe to being an "organizer product minimalist" there are many storage solutions that can truly help maximize the space for your pantry essentials.

Note: The links in this post are Amazon affiliate links, and we earn paid commissions when you make a purchase by clicking through our links at no cost to you. Read our full disclaimer policy here.)

Before we get into the nitty-gritty details of my pantry organization ideas and the various food storage containers I recommend, there are a few things to keep in mind.

A. Budget:


You do not need to break the bank at a swanky specialty shop like The Container Store. Although I am a HUGE fan of The Container Store (#containercrush), it's not always the optimal choice for those of us on a budget.

Most of the storage containers I share with you can all be found either on Amazon or other discount stores to ease the financial burden of getting organized.

B. Timing

Remember organizing any storage space in your home doesn't have to all happen overnight. Be patient and make small improvements as you go.
I personally have an ongoing "Wish List" of pantry organizers that is often changing depending on the house I'm living in.


C. Space

Before you begin any organizational project, it's important to think about the specific space and exactly what is stored there.

Each family utilizes their pantry space differently…some solely for dry food storage and canned goods while others use their pantry for a wider array of kitchen items like baking supplies, bulky appliances, or possibly even a wine collection.

A few things to ask yourself before you begin…

i. Is it a walk-in pantry or are kitchen cabinets serving as a "pantry"?

ii. What is being stored…canned foods, glass jars, cleaning products, party supplies?

iii. What is my vision for the end goal? Open shelving with food items in plain sight for easy access? Or a minimalist style shelf space with more hidden food storage bins and containers?

It's valuable to have a solid understanding of the space you are working with and what you hope the end result will be before you get started!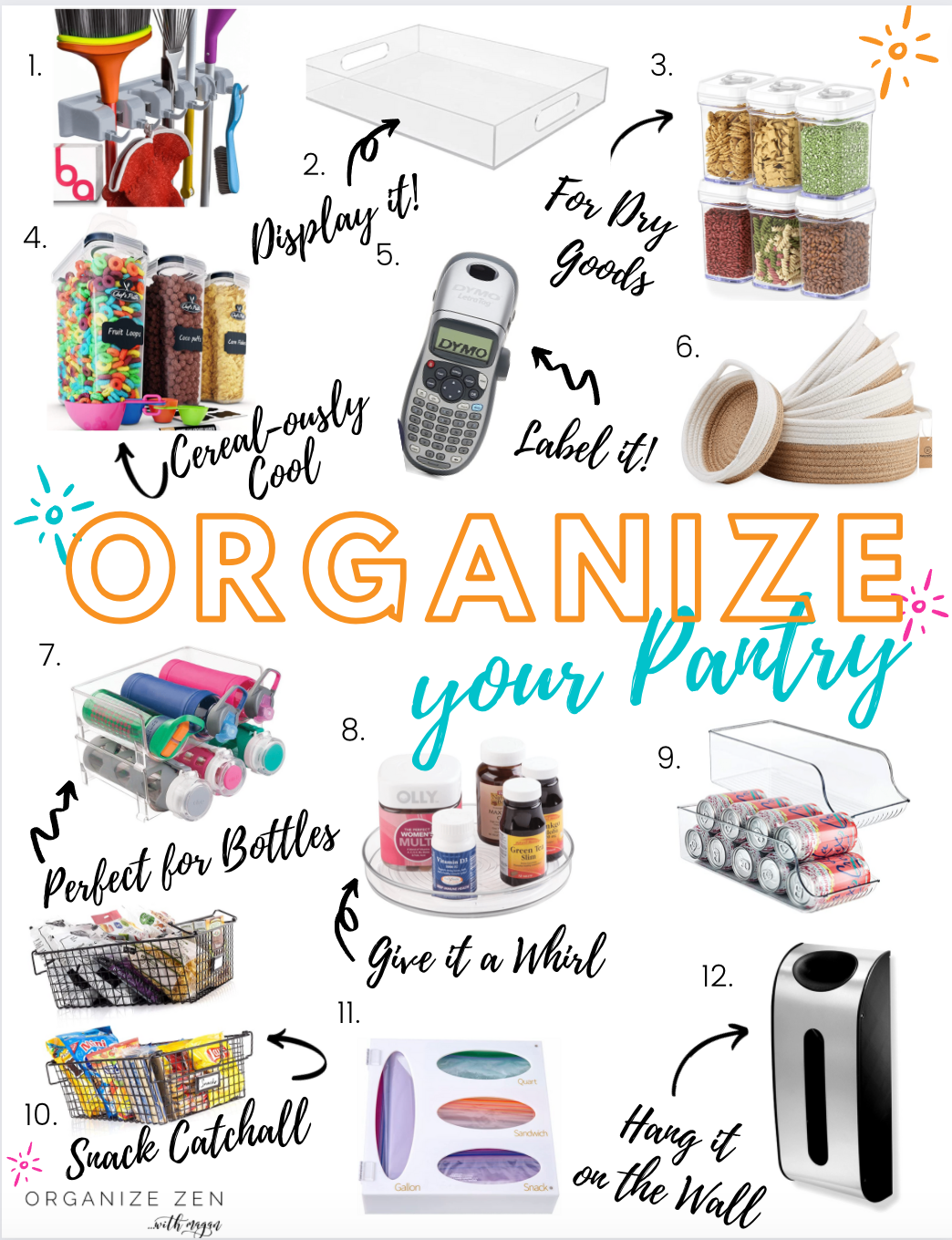 Now, let's jump right into my Top 12 Best Products for Pantry Organization

If you have a walk-in style pantry with ample storage space, you may have a collection of cleaning items like a broom, mop, duster, etc.

This kitchen storage rack would work well on a wall or on the back of the pantry door. With 5 handle slots and 6 hooks, it will give you lots of spots to hang any of the cleaning tools you might have in your pantry.

Heck, you can even hang your apron or oven mitts on this door rack – the possibilities are endless!
This decorative clear plastic serving tray serves as a snack display on my pantry shelf.





It helps keep all the bags of snack-sized chips organized yet easy to grab for when my kids are packing their school lunches or needing a quick bite of snacking nourishment.


I have this exact set of BPA free plastic, clear containers that I use in the cabinet shelves of my designated spice cabinet space for baking supplies like flour, sugar, etc.
But I consider them one of the best pantry organization products because I also utilize them in my pantry for dry goods like pasta and rice, and they truly maximize the vertical space in my walk-in pantry.

I also use them for dried fruit, nuts, and seeds, because I know they will all last longer with a container that has an airtight seal rather than just sitting on the pantry shelves in loose bags.


Having my containers airtight is essential in keeping food free from moisture or bugs!

Keep in mind, they are not dishwasher safe, so when you clean them just use a damp cloth!


Whether you have a large or small pantry, I love these plastic bins for cereal because it eliminates the eyesore of cardboard and plastic packaging of the cereal boxes.

The silicone seal along the top of the cereal dispensers also helps the food product stay fresh longer!


No list of organization must-haves for any space in your house is complete without a LABELMAKER!!!

It's especially essential in the kitchen pantry!

I mean seriously, how can you tell the difference between the plastic bins of powdered sugar and flour without a label…it will save you from having to do the "finger dip & lick" test! LOL!





When it comes to pantry organizers, I LOVE using baskets. They help the entire space look more cohesive and streamlined and can be really useful for deep shelves.

I use baskets similar to these to give me more storage for kid snacks like granola bars, fruit strips, popcorn packages, jerky, and trail mix.



Got a messy mountain of reusable water bottles?

Then this water bottle organizer may be your new best friend!

It can even be used as a wine rack! Well, cheers that brilliant idea!!

I call that a top contender for most versatile pantry organizers!


Known as the queen of pantry organizers in my book, I'm not exactly sure why it was giving the name of "lazy susan" because it's anything but lazy!! #hardworkingsusan
I put those hard-working lazy Susans into use in several places in my house… my kitchen cabinets, bathroom, refrigerator, and the pantry is no exception…welcome to the Lazy Susans Fan Club!!


Got canned goods?

Got baby food?

Got canned pet food?

Got sodas?

And do these pantry items take up too much space on your shelves?

Well, then this beverage and canned food organizer storage bin may be just what you need! It will make your pantry look ultra sleek and organized and will maximize your vertical storage space.

It can hold cans and sodas and leap buildings in a single bound! It's super organizer!! (and yes, of course, they are BPA free!)



Inevitably when I am organizing my pantry I have some items that just don't sit well on my wire shelves because they slide through the slots on the shelves…things like rice packets, packs of dry mix for salad dressings, chili/taco seasonings.


That's when these wire bins come to save the day!


These large metal baskets will help keep your pantry neat and tidy.

Got enough pantry organizers? Well, you can use these storage containers ANYWHERE in your home…playroom, closets, bathroom, garage shelves…any place any time!





Not sure if you are on social media but this cool organizing invention has gone a bit viral on TikTok and Instagram because it solves the age-old challenge of messy baggie boxes!

This acrylic baggie organizer is the perfect holder/dispenser for gallon, quart, sandwich, and snack baggies!

If you are wanting to invest in more earth-friendly kitchen items or acrylic doesn't match your kitchen vibe, you can buy these baggie organizing containers in renewable bamboo too!



So, I've saved the most needed pantry organizer for last!!

About everyone I know (including yours truly!) struggles with what to do with their large collection of plastic grocery bags.

I mean you might need them one day and you hate to throw them away cause that just wouldn't be very "green" of you!

And believe me, I know this is a multi-generational problem cause my great-grandma Bertha (yes this is a true story and that was her real name), crocheted herself a plastic bag organizer like the one pictured!



I'm not much into the crochet style home aesthetic, so I am opting for this very sleek (non-yarn) brushed stainless, durable steel one!


So there you have it, friends!

My Top 12 Best Pantry Organizers
What do you think?
Did I miss any pantry must-have organizational containers on my list?
Let me know in the comments!

I'm always on the hunt for the best pantry products around!

Until next time, cheers to Bertha-approved pantry organizers and containers, and cheers to you!

XOXO,
Magan

Psst – Want more pantry organization ideas? Check out my Pinterest page with all sorts of inspiration for you to organize your pantry shelves!